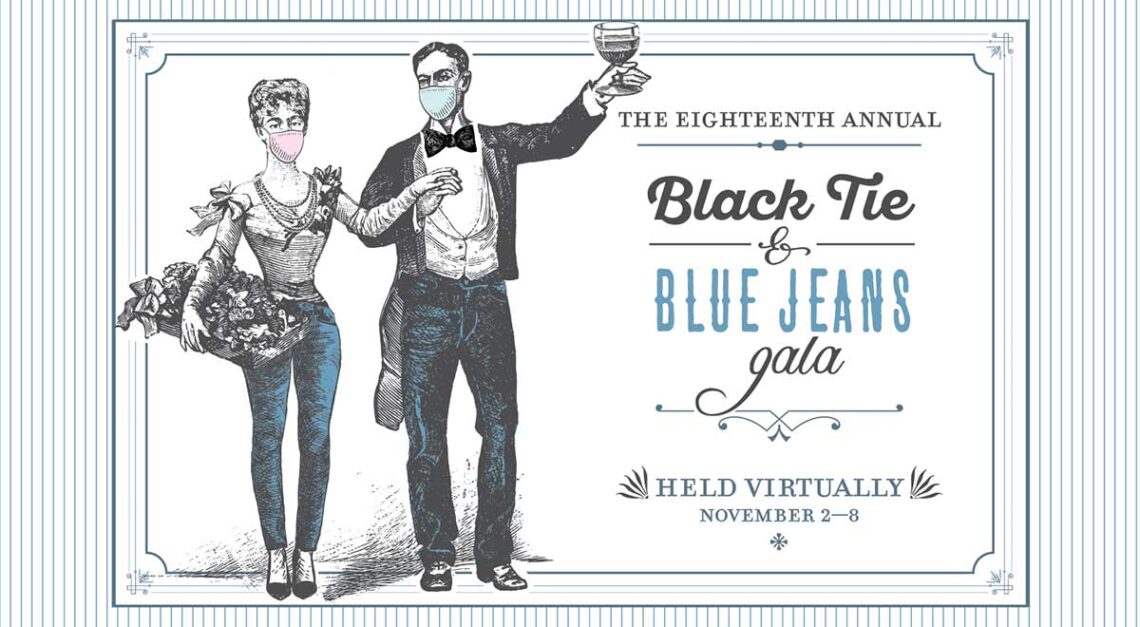 Black Tie & Blue Jeans Gala Goes Virtual with an Online Auction
Blount County, Tennessee – New Hope Blount County Children's Advocacy Center is excited to host their 18th annual Black Tie and Blue Jeans Gala – virtually – to raise funds for their new facility. The event begins Monday, November 2 and ends at 8pm ET on Sunday, November 8.
Event co-chair Jaina Castro said, "I'm proud of the staff and committee for finding a way to still celebrate this beloved event so we can raise funds to help this incredible organization move into a new facility that will better serve the children and families that have been through traumatic experiences."
Throughout the week, New Hope BCCAC will be releasing special content on their Facebook page (@NewHopeBCCAC), from videos about our mission to a special recognition of our Spirit of New Hope Award winner.
This year, the New Hope board of directors will be presenting The Spirit of New Hope Award to The Blackberry Farm Foundation. The annual award is given to a community member or organization whose everyday actions help further New Hope's mission in a broader and more diverse manner. The Blackberry Farm Foundation has been involved with New Hope from the very beginning through support of the gala, purchasing new medical equipment for our exam room and most recently Mary Celeste Beall, Blackberry Farm's Proprietor, serving as the honorary chair of our new building campaign.
New Hope's new facility, expected to open in spring of 2021, is a child-friendly space designed to allow for a more coordinated response to child abuse. All proceeds from the Black Tie and Blue Jeans online auction will benefit the center's Let Me Be Heard Community and Capital Campaign. Only $150,000 is needed to complete the fundraising goal for the new facility. By meeting our goal, the new facility can be fully funded when the first child comes through its doors.
Anyone can participate in the Black Tie and Blue Jean online auction by visiting BlountKids.org. The event committee has gathered a selection of exclusive items including a four-course dinner and overnight stay for two at RT Lodge, dinner for four at The Barn at Blackberry Farm, Pottery from Hope Ingram, a Rick Barnes autographed basketball, fine wine from Foothills Wine and Spirits, and so many other great items.
Black Tie and Blue Jeans Online Gala is brought to you by RT Lodge, Clayton Homes, Bill and Missy Pope, Blount Gastroenterology, Blount Excavating, LeConte Wealth Management, PCS Inc., Knox Pediatric Associates, Randy and Stephanie Shults, and Renasant Bank.
New Hope Blount County Children's Advocacy Center – New Hope BCCAC formed as a result of the 1985 Tennessee Sexual Abuse Law, which mandated that the district attorney, Department of Children's Services, law enforcement, medical personnel, and mental health professionals work together in the intervention, investigation, and prosecution of child abuse cases, and to provide counseling to assist the child victim overcome the trauma of the abuse.
The New Hope Task Force, comprised of local professionals and community volunteers, recognized that children were often re-traumatized by the very system designated to help them. In 2000, the Task Force set out to create a child-friendly, home-like setting based on the national model of Children's Advocacy Centers located in Huntsville, Alabama. Like the national model, New Hope is a private not-for-profit agency that facilitates the teamwork essential for effective intervention and healing.