Tennessee Winter Beer Fest's in-person event is cancelled but there are still ways to participate!
A message from Tennessee Winter Beer Fest:
"We were very much looking forward to celebrating our 10th anniversary with you! However, for all the obvious reasons, we will not be hosting the 2021 Tennessee Winter Beer Fest in February. The board of the TWBF looked at many options and came to the conclusion that for the safety of our patrons, brewers and all involved, it is best to cancel this year's event. We want our 10 year celebration to be an absolute blast of a blow-out and so we will look to February of 2022. We look forward to raising a glass with you then!
We're not done for 2021. New Hope Blount County Children's Advocacy Center depends on our donation each year. While they know our usual donation won't be possible in 2021, we still have some tricks up our sleeve!"
How you can participate in 2021:
Beer for Hope. While this was meant to celebrate our 10 year anniversary and help encourage folks to visit our brewer friends, in the back of our minds, we knew this could be a big part of our donation without an event. There is still Beer for Hope that needs you to drink it!!! Please help us kick these kegs. You can find the brewer list here. Please go and ask for Beer for Hope. At the time of this post, we know there is beer at Elkmont Exchange, Tri-Hop, Pretentious, Xul, Abridged and The Casual Pint Bearden amongst others.
Silent Auction. The silent auction lives on! Thanks to a really cool auction site that New Hope has experience with, our silent auction will go online in February. We'd love to have you participate and we'll share information as we get closer but in the meantime, if you'd like to contribute an item to the silent auction, that'd be great! You can let us know by hitting the email link on the right side of this page.
Donate. As we've discussed this with our sponsors, most have already told us that they will still contribute this year. How awesome is that?! You can contribute too! If you would like to be a part of our donation to New Hope this year, you can do so through our ticketing site here or at the link above.
Beer for Hope
Kicks off November 6, 2020 and goes until the brews are gone.
Visit any of the participating breweries to purchase their #BeerForHope brew with proceeds benefitting New Hope BCCAC!
Participating Brewery List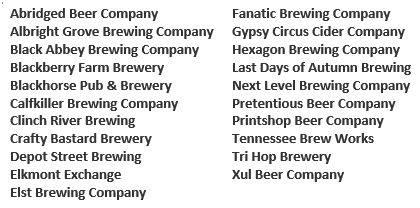 The History of Tennessee Winter Beer Fest
The Tennessee Winter Beer Fest began as an idea in 2011 from Maryville resident Mike Adams. He simply wanted to put on a beer festival. Through conversations with several friends a board was formed and a charity identified to benefit from the event, New Hope Blount County Children's Advocacy Center.
The TNWBF has grown since its beginning, officially becoming a 501(c)3 in 2014. Since its inception it has raised and donated over $150,00 to New Hope Blount County Children's Advocacy Center. The mission of TNWBF is to promote the regional craft beer culture within East Tennessee through intimate events and gatherings while supporting local charities.
The TNWBF board is made up of Nathan Robinette of the Casual Pint, Adam Palmer, Michael Talley of The Talley Ho Inn, Steve Fillmore of Miss Lily's Café, Mike Adams of Charter Spectrum Business, Andy Atkinson of Best Version Media, Todd White of The Brewing and Distilling Center, Christinea Beane of Black Abbey Brewing, Tony Schmitt of The Casual Pint, Don Kline of Knox Beer Snobs and Rob Shomaker of Knox Beer Snobs.
Learn more about the organization at http://tennesseewinterbeerfest.com/