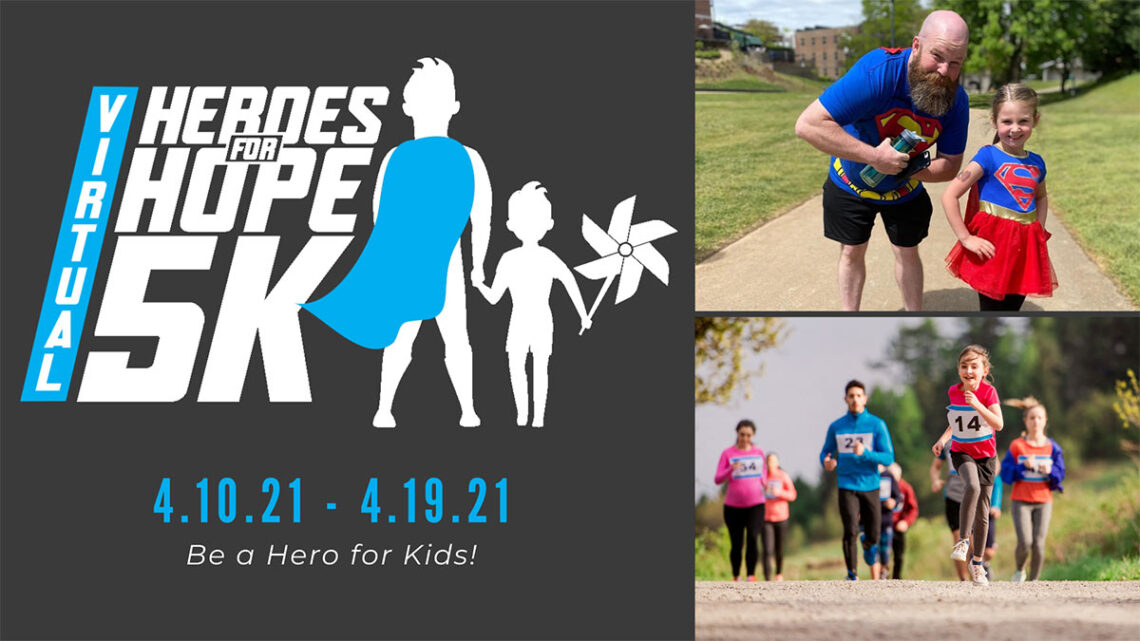 Join us for our 2nd annual Heroes for Hope Virtual 5k and Fun Run!
April 10, 2021 – April 19, 2021

Be a Hero for Kids! Use your superpowers to take a stand against child abuse when you register for our virtual race. Plus, you'll have a chance to win some amazing door prizes including
Customized Home Gym from Dynabody Gym and Fitness
Child's Bike from Cycology Bicycles
5 Personal Training Sessions from Tony Saddy at Get Fit Maryville
ON Running Shoes from Boyd Thomas Clothing
All proceeds from the race go back to New Hope to help us fund our critical services such as forensic interviews, advocacy services, evidence-based therapy, and forensic medical exams.
Did you know 1 in 10 children will be sexually abused before the age of 18? It's our mission to restore hope and healing to these children because we believe every child deserves a happy and healthy childhood. Help us raise awareness and take a stand by registering today!
How to Participate in a Virtual Race
Register
It's easy to register as an individual or you can sign up as a team! We have three options for you to choose from:
5K Run/Walk – Adult ($30)
5K Run/Walk – Child T-Shirt Option ($20)
5K Run/Walk – Child Cape Option 10 & under ($20)
Ghost Runner – for those that want to give back without getting competitive ($30)
Click here to get started! Please reach out to Tori at tthomas@blountkids.org with any questions.
Race Group Winners
We are excited to announce that each group winner will be awarded with a $20 gift certificate to Cycology Bicycles. Here are our race groups:
<10
11-14
15-19
20-29
30-39
40-49
50-59
>60
Results will be posted on April 20, 2021 at noon.
Submit Your Time
The virtual race takes place from 12:00am on April 10, 2021 to 11:59pm on April 19, 2021. During this timeframe, participants can run the 3.1 miles from anywhere and submit their time via the RunSignup race page under the "Results" menu option.
On this page's menu, select "results"
Select "Submit Virtual Results"
Find your registration by searching either first or last name, email, or DOB
On your registration, click "Submit Virtual Results"
Add your time and click "submit results"
Race Day/T-Shirts
Come by the park on April 17, 2021, from 9am to 3pm to run the original course and for those of you that registered by April 9, 2021, you can come grab your race t-shirt. All other registrant t-shirts will be delivered after the race.
Thank you to our Sponsors!
Super Hero Sponsor
Hero Sponsors
Sidekick Sponsors
Valued Sponsors
Interested in sponsoring in 2021?
Contact us at vpainter@blountkids.org or 865-981-2000 x112 to secure your sponsorship today!