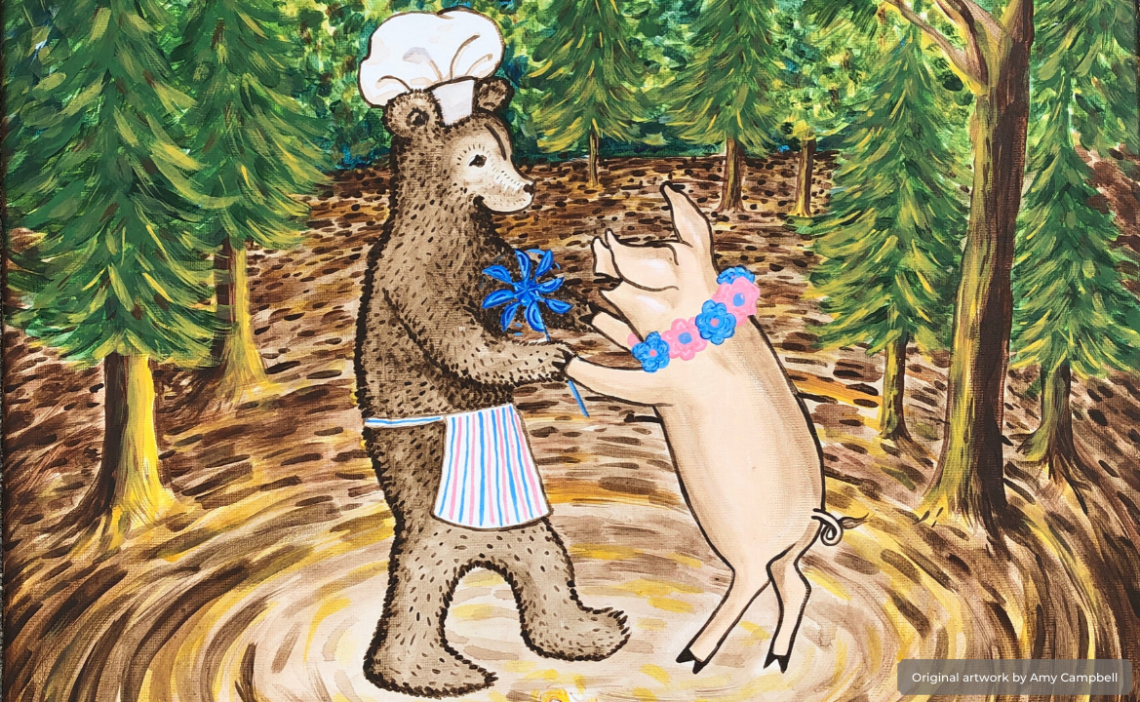 Bacon at the Bear is Shaking Things Up for 2020
Blount County, Tennessee – One of New Hope Blount County Children's Advocacy Center's primary fundraisers, "Bacon at the Bear" is changing things up for 2020 and "bringing home the Bacon" to stay connected while keeping a safe distance.
For a full week, the center will host a virtual fundraiser with a silent auction that includes a chef's dinner for twelve at Dancing Bear Lodge & Appalachian Bistro with Chef Shelley Cooper, the Executive Chef at Dancing Bear's bistro, and Chef Alex Gass from The Walnut Kitchen. 
Bacon at the Bear co-chair Steve Jenkins said, "The staff and committee members have been busy curating unique auction items for this year's event and we hope you'll join us for a special Bacon at the Bear experience. Anyone can register for our silent auction at blountkids.org. Guests will have VIP access to preview auction items and be ready to go when the auction starts."
The week's activities will also include special feature videos from the Chefs as they share their passion for Appalachian history along with virtual "samplings" on Facebook of the Bacon at the Bear event. There is even a visit with one of the event's founders, Allan Benton of the world-famous Benton's Bacon.
Allen Rathbone, committee co-chair said, "I'm proud of the staff and the committee for finding ways to keep this beloved event going – even through a pandemic. We know how important this fundraiser is in supporting the mission of this incredible organization – providing hope, safety and healing to children in the most traumatic circumstances."
Instead of purchasing tickets to the physical event, this year, New Hope is asking for donations to help meet the $25,000 goal of the Bacon at the Bear event. New Hope Children's Advocacy Center provides forensic interviews, forensic medical exams, counseling and ongoing advocacy services for child victims of sexual abuse. The funds received each year from the event provide crucial services to children and their families. Donations can be made at BlountKids.org.
Executive Director Tabitha Damron said, "We are so grateful for the sponsors and the community for continuing to participate in the 2020 version of Bacon at the Bear and for the support of other New Hope events in this uncertain environment."
There are also sponsorship opportunities for businesses and individuals who would like to make a tax-deductible donation. Please contact Renee Poole at rpoole@blountkids.org for more information on sponsorships. For more information, visit blountkids.org
Bacon at the Bear is presented by Dancing Bear Lodge and Appalachian Bistro and Benton's Country Ham. Special thanks to our "Fatback" Sponsors: Plato's Closet, Once Upon a Child, and Maryville Monument and our "Tenderloin" Sponsors: DENSO, Blount Gastroenterology Associations, Pinnacle Financial Partners, Realty Executives Pat McGill, PCS, Inc., and Joe & Debbie Matteo and our "Bacon Bits" Sponsor: Cate-Russell Insurance and Rick & Cindy Shepard.
New Hope Blount County Children's Advocacy Center – New Hope BCCAC formed as a result of the 1985 Tennessee Sexual Abuse Law, which mandated that the district attorney, Department of Children's Services, law enforcement, medical personnel, and mental health professionals work together in the intervention, investigation, and prosecution of child abuse cases, and to provide counseling to assist the child victim overcome the trauma of the abuse.

The New Hope Task Force, comprised of local professionals and community volunteers, recognized that children were often re-traumatized by the very system designated to help them.  In 2000, the Task Force set out to create a child-friendly, home-like setting based on the national model of Children's Advocacy Centers located in Huntsville, Alabama. Like the national model, New Hope is a private not-for-profit agency that facilitates the teamwork essential for effective intervention and healing.